xp.engine device is a multichannel bus that gives you access to Ircam spat~ unique capabilities inside Ableton
Very intuitively, it offers a flexible configuration of your project.
The configuration can be changed later even if a project has been completed in another form, allowing a project to be played or run anywhere.
Features
- Input/output monitoring, play as a sound field stream or in Binaural (kemar)
- Unlimited configuration up to 62 channels (Ableton limitation)
- Dynamic autofilling output routing channel
- Factory layout presets
- Load and save custom layout as user preset
- Most popular spatialization type supported (angular, vbap2d/3d, hoa2d/3d etc...)
- 4 virtual rooms
- Dynamic output routing
- Audio tester
- Record in multichannel format, hoa components and playback recorded files.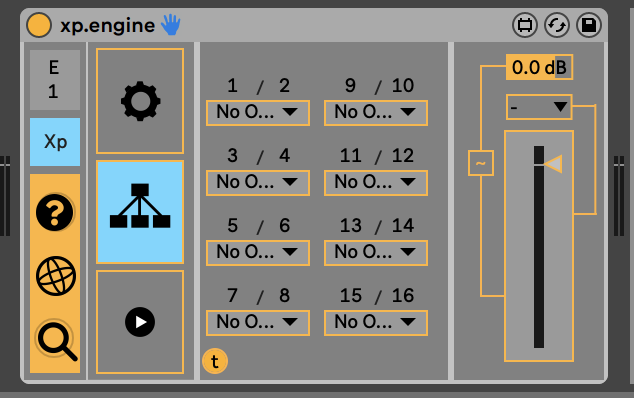 The audio can automatically be routed to the output channels or can be manually adjusted.
Audio routing can be checked with an handy line checker (pink noise~).
Real time multichannel recording
From this device, you can record in real time a multichannel wave file format taking the current DSP configuration,  what you are just currently playing in Ableton Live.
Just set the name, and record ! The multichannel files recorded in the session can be immediately played back.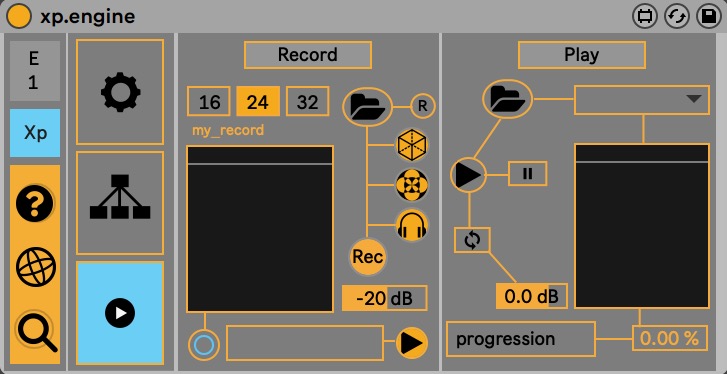 xp.engine is an open source device and requires the XP standalone to work. It is included in XP bundle.