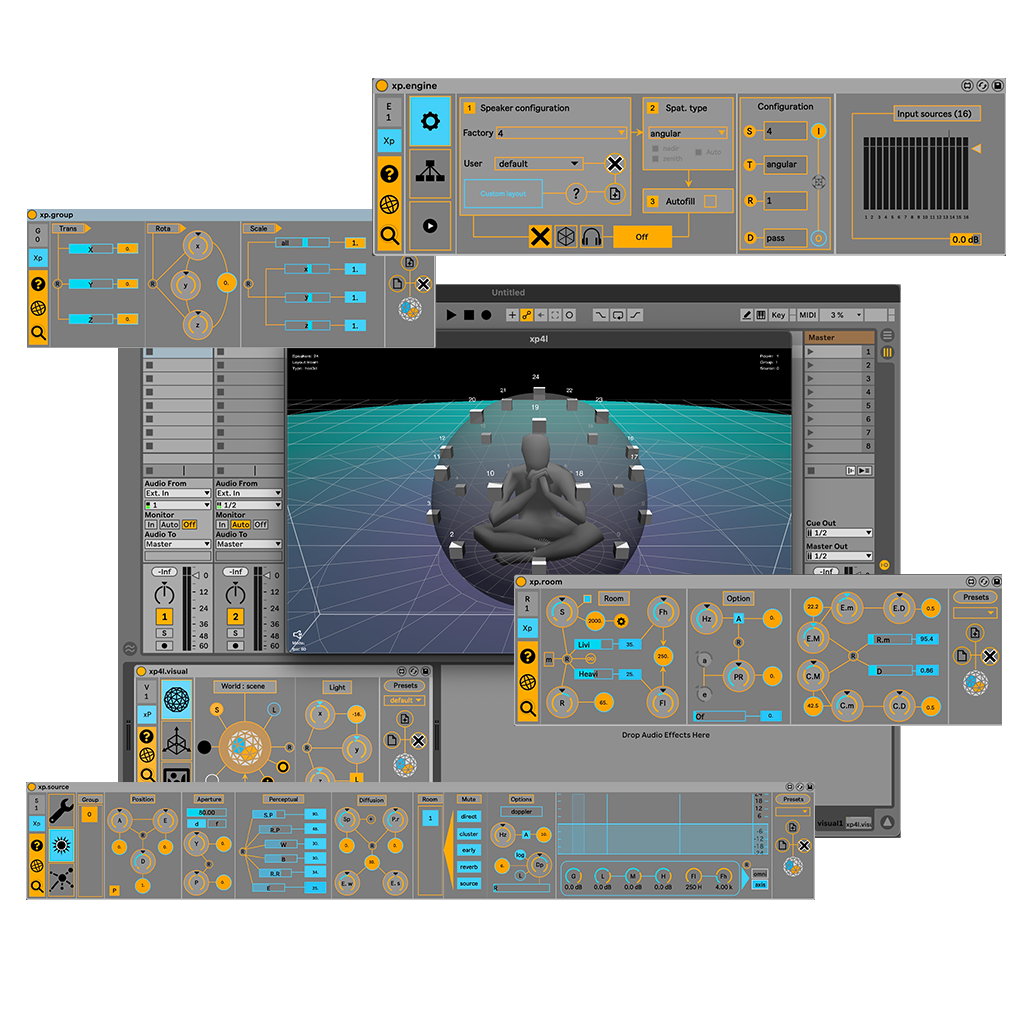 About
XP represents a seamlessly integrated solution aimed at unlocking the full potential of spatial audio design and performance within Ableton Live. Its primary objective is to provide Ableton users with a user-friendly and versatile environment for creating captivating 3D audio projects.
Consisting of five Max for Live devices and a standalone application available for purchase, XP offers a comprehensive toolkit for spatial audio production.
Throughout the development process, a key consideration was to preserve the unique workflow characteristics that define Ableton Live. This delicate balance between artistic creativity and live spontaneity was carefully maintained, ensuring that XP seamlessly integrates into the existing Ableton ecosystem.
Central to XP's functionality is the utilization of Ircam Spat~, a renowned library of Max/MSP objects designed for real-time spatial processing of audio. This library boasts exceptional capabilities for simulating virtual acoustic spaces, providing users with an unparalleled set of tools.
Consequently, XP caters to both existing and potential users of the Spat library. While it was technically possible to access the library in Ableton Live prior to XP's existence, the process was complex and limited the majority of creators from fully harnessing the immense potential of this remarkable tool. XP simplifies and streamlines the integration of the Spat library into Ableton Live's Max for Live environment, granting users the flexibility they need to leverage this incredible toolset.
A working internet connection is necessary to activate XP standalone. It will use your registered email address. After purchasing the application, a licence number will be sent to you by email, and will also appears in your personal account. From Ableton 10, to 11.3.11
With max for live extension
https://www.ableton.com/en/live/max-for-live/
Note:  Max for live is included in Live suit
Users of Live 10 should note that the version of Max MSP that comes pre-installed is outdated. While it is capable of running Xp, it does not match the enhanced performance found in the version that comes with Live 11. For optimal performance in Live 10, it is recommended to configure the software to utilize a locally-installed, up-to-date version of Max MSP.
Ircam Spat library
Current supported version is spat 5.3.1
The devices of xp are using some of the Spat~ library objects. You need to have the spat library (free) installed and up to date on your computer.
Visit https://forum.ircam.fr/ projects/detail/spat/ and follow the installation notes. Be sure to download the right version for your system.
For new users, be aware that you will have to sign up with free account to Ircam Forum before being able to download the library. Installation will typically only requires to copy a Spat folder into your /documents/max8/package
For the windows version you need to install the Visual C++ 2019 redistributable package for windows which is needed by Ircam Spat dependencies: